The beginning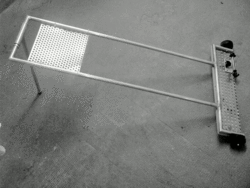 After transporting the bikes inside cars without any form of mounting for years, we asked how it would be possible to transport bicycles inside a car without damaging the car's interior, scratching the bikes or performing contortions when loading the bikes.

We wanted to build a product that provides the bikes good support during transportation and which also simplifies their loading. After several tests we developed the first veloboy.
It was quite heavy and a little bulky but all the essential features were included: the bicycles were placed on the rack outside the car then rolled into the interior. Many bystanders also liked the idea and asked where they could buy this gadget. But of course there was no place to buy the veloboy yet.
Thus the idea for the veloboy and its fabrication was born.