veloboy T3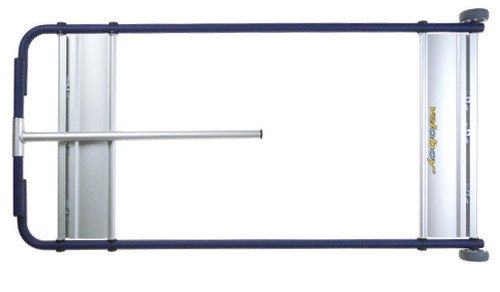 Bike rack and loader for up to three sport bikes or two heavier bikes such as e-bikes or e-mountainbikes (max. total load: ca. 45 kg). With the veloboy T3 you can easily load the bicycles outside of the car and then roll the whole "package" into the car.
The veloboy T3 only weighs 4.5 kg and is made of aluminum. The veloboy T3 is 66cm wide and just under 130cm long. With these dimension you can still use one seat in the rear passenger compartment.
There are two profile rails - that we have developed - on which you can mount the fork mounts with clamp levers. The forkmount fixes the front-wheel fork.
Two bikes are mounted in the direction of travel and the third in the opposite direction (or vice versa). This enables the bicycles to be positioned in a very compact way on the veloboy T3.
You can use all types of fork mounts on the veloboy T3. Use our sturdy waterproof veloboy bag to stow the bike's front wheel during transportation.
When postitioned in the car the bikes and the veloboy MUST be secured with, for instance, a tension belt.